RECORD STORE DAY 2020

Created for
Retrofit Records
in Tallahassee, Florida in conjunction with Record Store Day. In other years, this is usually a one day event in the Spring, but the pandemic forced it to be rescheduled as a multi-day event in the Fall, with drop days for new arrivals and in-store deals occurring in September, October, and November.
I decided to acknowledge the isolating constraints of dealing with the pandemic, and to channel that into a simple yet positive message: Stay Home & Listen to Records. In an effort to generate more interest and customer traffic, we decided after the first printing that instead of simply changing the color scheme for each poster, we would incorporate a unique illustration for each one, featuring characters in domestic settings, enjoying their vinyl collection. Naturally I took this as a chance to draw some of my favorite records (and some fun ones I happen to have in my collection), that served as little easter eggs for eagle-eyed viewers. Some are a little more obscure than others. How many can you name? (Answers at the bottom of the page :P )
These were each screen-printed on colored stock, by
Bulletproof Prints
.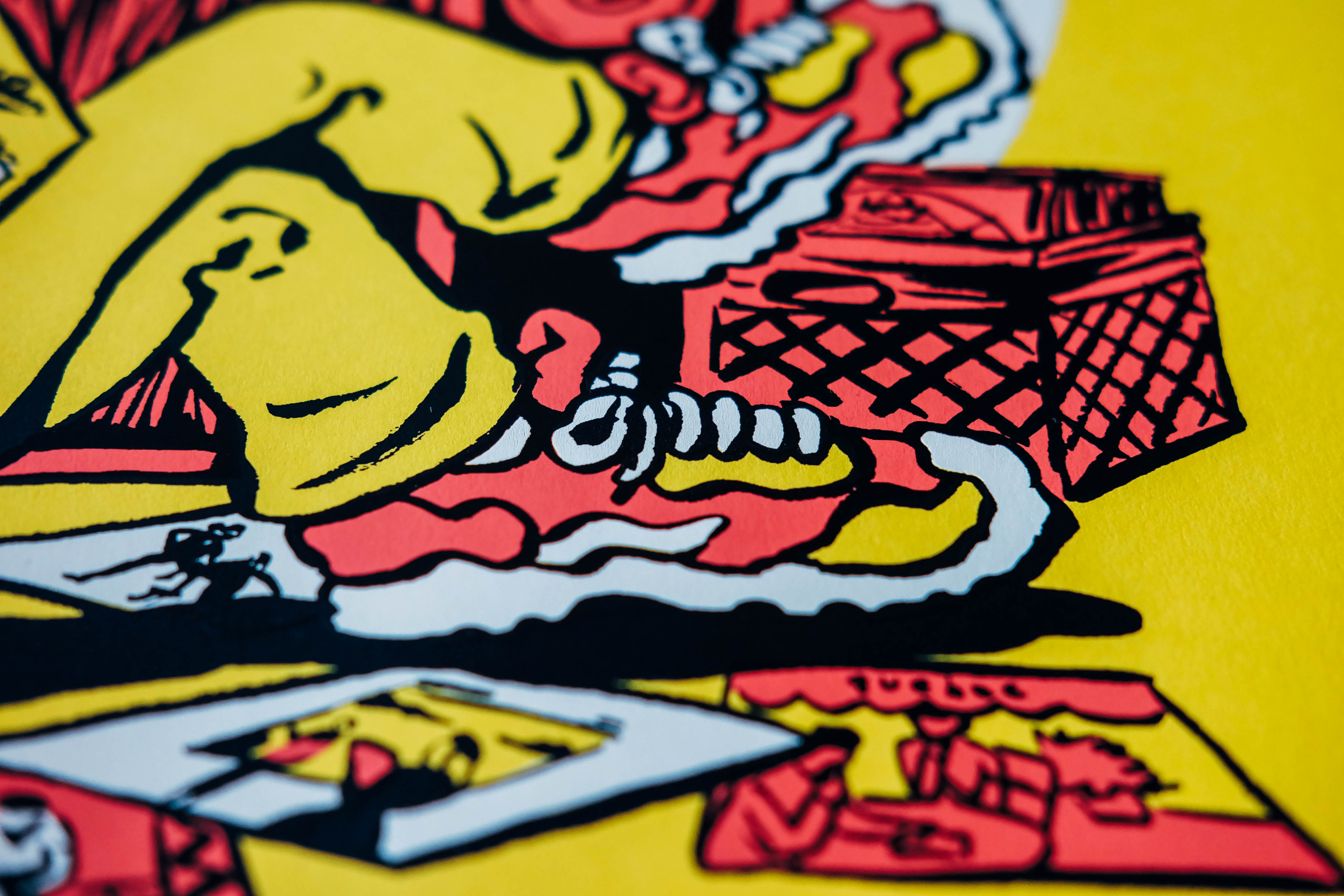 Featured Record Covers


Poster One (Clockwise from Top):

- Steely Dan, "Can't Buy A Thrill" (1972)
- Fleetwood Mac, "Rumours" (1977)
- Ween, "Quebec" (2003)
- Brian Eno, "Another Green World" (1975)
- Paul & Linda McCartney, "Ram" (1971)
- Talking Heads, "More Songs About Buildings and Food" (1978)

Bonus (in the crate):
- The Kinks "Lola Versus Powerman and the Moneygoround, Pt. One" (1970)


Poster Two (Clockwise from Top):

- Warren Zevon, "Excitable Boy" (1978), (inner sleeve)
- The Beach Boys, "Pet Sounds" (1966)
- Television, "Marquee Moon" (1977)
- Devo, "Q: Are We Not Men? A: We Are Devo!" (1978)
- R.E.M., "Automatic For The People" (1992)


Poster Three (Clockwise from Top):

- Joe Jackson, "Night And Day" (1982)
- Electric Light Orchestra, "Out of the Blue" (1977)
- Huey Lewis & The News, "Sports" (1983)
- Kraftwerk, "Computer World" (1981)
- The Cars, "Candy-O" (1979)
- Genesis, "Abacab" (1981)
- Billy Joel, "The Stranger" (1977)


Thanks for playing! ︎